Simcard.ID – SpeakOUT Sim Card – SpeakOut, owned by Pavo Communications Sdn Bhd, came as MVNO in Malaysia in 2011. It operates on 3G as well as on 4G / LTE on the Digi network.
Early packages are available at 7- Eleven stores in Malaysia and other outlets, where the SIM card will be registered before activation. There are 4 different newcomer packages to choose from and all have their own package of informational features to add.
SpeakOUT Sim Card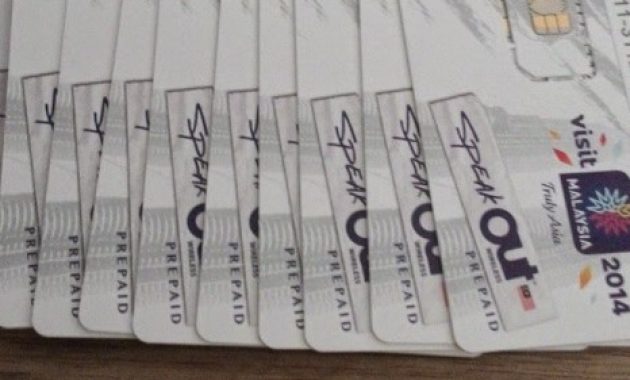 Each starter pack has a validity period of 30 days after activation and another 60 days for incoming calls before they suspended.
Refill vouchers have the dominance of RM 3, RM 10, RM 30, RM 50, RM 100, RM 150 and RM 180, where each RM increases one more validity day. The exception to this when the RM 180 relaunched, increasing the validity by 1 year. Make a top-up using option 2 in the * 129 # menu. To check the balance, use option 1 in the menu. To receive phone settings, use * 129 * 7 * 1 #.
If no package has been activated or no longer renewed, the basic default rate will RM0.10 per MB for the entire offer. After all the allowance for information in the packet used, the speed will limited to 64 kbps.
Prepaid SpeakOut Sim Card
Prepaid SpeakOut packages are available at a price of RM 16 and include a call credit of RM 2 and 500 MB of information with 4G speeds for 30 days. The following an automatic renewal package that can be activated:
| Plan Name | Volume | Validity | Price |
| --- | --- | --- | --- |
| ValueSurf10 | 500 MB | 14 day | RM 10 |
| ValueSurf20 | 1 GB | 30 day | RM 20 |
| ValueSurf28 | 1.5 GB | 30 day | RM 28 |
| ValueSurf38 | 2.5 GB | 30 day | RM 38 |
| ValueSurf48 | 3.5 GB | 30 day | RM 48 |
SpeakOUT Tourist Prepaid Sim Card
Especially for tourists and only for non-Malaysian passport holders, it a tourist starter package. This package is available for RM 50 and includes 100 GB of high-speed internet for 7 days. RM 5 talk time and cheap IDD calls to 20 countries. To check your consumption, use * 129 * 1 * 5 #. After the early week ends or 100 GB has been used, there are 2 packages of information available via * 129 * 4 * 1 #, both of which are valid for 14 days:
SuperSurf: 5 GB for RM 30
UltraSurf: 10 GB for RM 50